| | | |
| --- | --- | --- |
| | john cambis's Latest Mapable Trips | |
| | | |
| --- | --- | --- |
| | john cambis's Trip Statistics | |
No messages yet. Be one of the first to send this user a message.

Send john cambis a message
03/17/14 01:17 AM
Giving the new duo baits a try. They have some great looking small lures i may have more luck with than the shadraps. Hope there a little more durable!

---

11/03/13 10:32 PM
Trout love the chartreuse black back little jon md and the 3xd strike king in shiny shad a lot. Not a bass on a crankbait yet.

---

10/20/13 02:58 PM
Spencer lake is worth a look. Has smallmouth!!!

---

10/06/13 09:43 PM
r+7L6P?o&3sYq/G
camb0054

---

04/26/13 07:51 PM
Caught a 4lb 12 oz trout on long pond on opening day on the bluegill squarebill crank. Gave the fish to someone and had a geat time.

---

04/16/13 02:43 PM
Been really enjoying my Luck-e-Strike STX jerkbaits. The hooks and split rings are garbage. Still in the hunt for a decent replacement hook. Also the Strike king bluegill crank bait 1.5 is slaying the pickerel and a few bass. Jumped on the SPRO band wagon and checking out there baits. So far the cell mait little JOHN MD is the best one, but i have yet to try the rattle traps.

---

02/07/13 11:18 PM
Working on updating locations in Washington state in Kitsap area. Hopefully it makes it easier when i get there. Make sure to get the parking permit with the fishing licence. Looks totally different then here with a lot of downed wood.

---

09/28/12 10:43 PM
Got two new reels with line i have never used. 10 lb yo zuri hybrid is decent stuff. Like it as well or better than Berkeley XL. Suffix 832 sucks right out of the box but is better when broken in. I think i hate Berkeley fireline smoke. Not to many good Berkeley products that i have used. Power pro super slick 8 is my favorite braid but seems to ware fairly fast compared to what people are reporting for other braids.

---

06/23/12 11:06 AM
the lack of stretch in braid has some side effects which do cause some problems. Setting the drag lighter to account for the lack of shock absorption is very important, as to not break another pole.

---

05/31/12 05:18 PM
sometimes the best lures are cheap and plain. Little cleo plain silver spoon 1/8 working wonders on trout.

---

03/20/12 01:36 PM
using huge spinnerbaits sucks, double 10's hurt the wrist, and are just no fun, the luna pulled it just fine though

---
john cambis's Current Rank: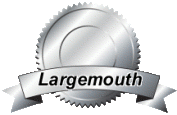 Largemouth Rank
With 981 Total Points

Special Awards Achieved:

| | |
| --- | --- |
| Site Moderator | Top Photographer |
| Gone Fishin | Fish Critic |
| Leader Board | Friendly Fisherman |


Previous Ranks Achieved:
How are ranks determined?


Below is where we list statistics for the number of reviews, comments, message board posts, etc. that this user has posted on all the Fish Finder sites. The higher total overall points a user has, the higher the user's ranking.