flyangler
Panfish Rank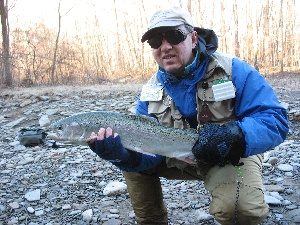 Joined: 17 May 2007
Posts: 152
Total Points: 224

Posted: Fri Jul 23, 2010 3:20 pm

Post subject: Report 7-23

---

Left the dock much later than usual this morning, close to 8 AM. Found breaking stripers at Bartletts through the last hour of the flood tide. Bait is a combination of butter fish and silversides. If the fly is longetr than 1.5" it will be ignored. Started with full sinking line with straight 15lb. florocarbon leader. Top fly was my favorite Blonde pattern - gray over white tied on size 1 straight shank hook. Fish continued to feed sporadically during slack, but were very skittish. Once the tide started moving again hooked up on almost every drift using a intermediate line with 5 foot tapered leader and 2 foot 12 lb. florocarbon tippet. Fish ranged in size from 25 to 30 inches.

Surprise of the day... hooked a weakfish which I lost as I was trying to get it on the Boca. I hit the leader and ripped the fly loose. The last time I caught a weakfish in this area was close to 20 years ago.
So far no bluefish, hopefully they will stay away for a while longer.