michael82
Baitfish Rank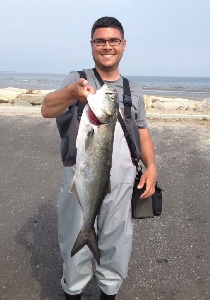 Joined: 14 May 2015
Posts: 10
Total Points: 15

Posted: Sun Apr 17, 2016 8:41 pm

Post subject: On and Off

---

For the past 2 weeks I've hit the Remington Shaver factory by the discharge at Seaside. Lots of bait with stripers, along with diving birds and 2 nesting ospreys.

Recently 1 day as I waded on the sandbar there during the incoming, I threw my legendary Original Pearl Shad FLR-10 with a lighter setup and landed 3 stripers. 2 were dinks while the other was a chunky, aggressive 25" schoolie.

Later in the evening was when the bite turned back on and I landed another dink and a chunky 23"er.

Can't wait for the water to get into the mid 50s and also for the blues to arrive.