michael82
Baitfish Rank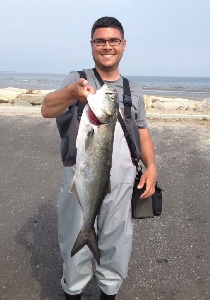 Joined: 14 May 2015
Posts: 10
Total Points: 15

Posted: Sun Apr 17, 2016 8:35 pm

Post subject: Clear Skies....Warm Air....Calm Wind....TOPWATER!

---

After fishing at Seaside Park for a few hours, I headed home to change gear and clothes before grabbing a bite to eat and then hitting Bunnell's Pond, arriving just before 6.

Started by throwing a Silver Shad JSR-4 but no hits or followers.

Next I threw a Glass Minnow HJ-8, which landed me a dinky bass. Had a few hits and kept getting a small pickerel following it.

Then I waded into shallow water to see if I could get into topwater. I started by throwing a Pad Crasher Jr and giving it a slow walk the dog retrieve. Had 2 bass carefully inhale it. Switched over to a G-Finish Shad Baby Torpedo, which turned the bite on.

Varied the retrieve as I hit a few other spots until around 8pm. Total was 7 bass and 1 pickerel with lots of swirls and hits. A chunky 14" cookie cutter slammed the lure.